Susanne Edwards, Executive Director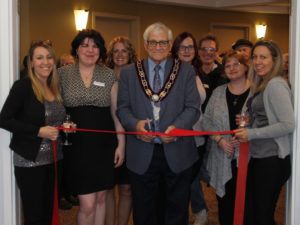 Susanne Edwards is a passionate people leader with over twenty-five years of experience in Customer Service, Marketing and Retirement Home Operations. She began her career in the Retirement field as Recreation and Marketing Manager working up to the position of General Manager.  She has received multiple accolades for her accomplishments in the field including being one of the top five performing General Managers for a national company in 2012.  She is passionate about inspiring her team to make an impact in the lives of our residents and staff.  When not at work, she enjoys traveling, painting and spending time with family.
Nicole Burchell, Director of Care
Nicole Burchell is a registered practical nurse with over fifteen years experience in the nursing profession. She began her career as a nurse in Nova Scotia and is very knowledgeable, respected and competent in many aspects of nursing.  She has worked in a hospital setting, for a family doctor, a plastic surgeon and also has many years experience in community nursing. Her passion is enriching the lives of her residents and maintaining or improving their overall health. She is dedicated, hard working and loves coming to work to support all her wonderful residents. She and her family moved to Petawawa six years ago and fell in love with the area. When not at work she loves to travel to warm destinations, watch comedies and spend time with her family.
Tiana Knox, Sales and Marketing Manager
Tiana was born and raised in the Valley with entrepreneurial parents Don and Shirley of Middlestadt Bakery and Granary Restaurant.  After two dedicated years with Riverview Heights as a receptionist, Tiana's exceptional personality lead her into her current role as the Sales and Marketing Manager. Tiana is most proud of the special place that Riverview Heights has become for so many residents and would not hesitate to have her own mom and dad call Riverview Heights "Home", when not at work she enjoys quality time with her husband and two daughters on their hobby farm raising fancy chickens and lots of dogs.
Tanya McKay, Dietary Service Manager
Tanya McKay is a driven leader with over 10 years of management experience combined with a diploma in dietary nutrition science.  She loves going to work every day to see the residents and create great meals for them.  She is well known for her home made baked goods and integrating resident family recipes into our meus.  She has traveled a lot and lived all over Canada being raised in a military family and now a proud military wife.  When not at work she enjoys spending time with her family.
Laura La Salle, Financial Manager
Laura La Salle is a dedicated and self-motivated person who strives for perfection.  She has over 10 years' experience in both the Customer Service and Accounting fields and has since then been able to acquire extensive business knowledge throughout her work history.  She enjoys the everyday interaction with other staff and residents, as well as her work environment. She is a wife and a mother of 2, and when not at work, she enjoys cooking, shopping and spending time with her family.
Dave Jonas, Maintenance Manager
Dave Jonas is an energetic people person who enjoys helping others.  He has a wide variety of skills in the maintenance field which is beneficial to the duties that he is assigned.  He enjoys this position as he interacts with the residents always trying to make their day a bit more enjoyable.  In his down time, he enjoys spending time with his grandchildren, travel and in the summer kicking' it back at the cottage.
Pam Penner, Recreation Manager
Pam has been working in activation for 10yrs holding a certificate in recreation programming.  Prior to working at Riverview she was the recreation programmer for a retirement home in British Columbia.  She made the move to Ontario from BC to be closer to her granddaughter and family.  She is known for her boundless energy and passion for making our residents smile.